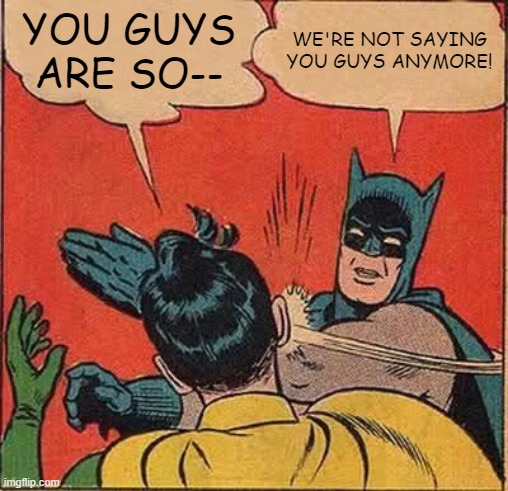 First reactions: the language police
I've recently learned that calling a group of people you guys may be considered insensitive to transgender people.
My first reaction to this was an inner eye-roll, and thoughts along the lines of, "Oh come on, that's going too far."
The same reaction I had to learning that the word crazy is not to be used -- in any context -- because it's insensitive to people with mental illness. Why are people policing my language this closely? Is this really important? Who determined this is now inappropriate speech?
I've always thought of guys as gender-neutral, and you guys represents a group of people of any gender -- in the appropriate context. Clearly some people say "guys and girls," and in that context guys means men and boys. But words have different meanings in different contexts, and most speakers of any given language are able to distinguish among those contexts.
Is you guys really so offensive, to the point where I am hurting people by saying it?
Stuff I believe
I believe language matters.
I believe people have the right to be called by their preferred name, both their personal names and their gender identity.
I believe in striving to be antiracist, antifascist, antihomophobic, antitransphobic, antisexist.
I believe all black lives matter.
I believe strongly in freedom of expression of all types, and that free expression may have consequences, such as the cancellation of a speaking engagement, a Twitter storm of protest, a decline in sales, or the loss of a job.
I believe in empathy, compassion, and that all people deserve an opportunity to learn and grow.
Second impressions
So I started to ask myself some questions.
Why am I resistant to this change?
Why do I accept other changes in language, but feel this one is "going too far"?
If I say, "This is going too far, if I want to say you guys and I know I'm not transphobic and I think it's fine if I say this, then I'll say it," how is that different from right-wingers who refuse all language change, who insist it's their "right" to call people whatever they want?
How is you guys different from the cringey expressions of my youth -- Indian giver, sitting Indian style, Chinese fire drill, Dutch courage, braves and squaws, to Jew him down, I was gypped. Paki shops, and "take-out chinks" and "bull dykes".
How is this different than faggot or nigger? (And not in any reclaimed sense!) Or words generally considered less offensive, but that I so deeply loathe, like gal and ladies and girls' night out.
There's only one thing different about you guys: it's my own common practice.
All those words above once were, too -- and for many people, still are.
So if I'm hearing that you guys makes trans people feel excluded and less accepted, then I should stop using it.
You guys is very ingrained into my speech patterns. But speech patterns are not inviolate. There's no lack of available substitutes.
I must point out a bit of irony here. Many people feel folks is a good substitute for guys. I painfully trained myself not to use folks when writing for and about people with disabilities, because it was considered demeaning and infantilizing. No one in the guys discussion seemed to know about this. Perhaps it's old and outdated, but it's something I learned, and I adhere to it.
And
please
don't tell me about
y'all
and
all y'all
. Now we're all going to adopt expressions from the Confederacy?
No thonx.
Change -- but give people a chance
My initial resistance to the you guys question also gave me more insight into the thoughts of people who resist language changes.
People don't enjoy hearing that their ordinary, everyday speech has somehow become tainted and offensive. Often, they don't understand or respect the people who are asking for (or from their perspective, demanding) this change. Possibly they are angry and feel victimized by their own exclusion -- whether we understand that or not.
I'm not excusing the behaviour of people who refuse to change language with the times. I'm just saying that perhaps we could be more patient.
My resistance to you guys also revealed a distinct lack of compassion and empathy on the part of many progressives -- for anyone who uses a word now considered wrong.
If we want people to change -- to accept change -- to enter into the process of change -- we would benefit by understanding their opposition.
There are no antidotes to raw bigotry and hatred. I don't think we need to walk a mile in a bigot's shoes and feel compassion for their hatred. At the same time, it does no good to blame and shame someone for taking five minutes longer -- or a week longer, or a year longer -- than you did to get to the same point -- say, the point where guys seems anachronistic and inappropriate.
More woke than thou
In progressive circles there can be a mentality of othering, of in-crowd/out-crowd based on language use. People who are More Radical Than Thou use the up-to-the-minute words as exclusionary themselves.
I rarely use slang, and I'm always a little late to the lingo. One day, we said more evolved, then suddenly people said woke. And if you didn't know what woke meant, you were a Becky, and now you're a Karen. The use of which is sexist, regressive, exclusionary, over-simplified, and everything we say we don't want to be. I don't say woke and can't even think it without air-quotes. If it has meaning to you, then of course you can and will use it. For me there are other words that express the same meaning.
I remember the withering looks I got for saying Bradley Manning five minutes after others were saying Chelsea Manning. I am in full support of Chelsea Manning as a whistleblower, a truth teller, and a war resister, and am in total support of gender expression and identity. But I had been using the name Bradley Manning for a long time and my brain hadn't completely made the switch. Is that really worthy of scorn?
If a diehard leftist like me, who wholeheartedly supports every aspect of human rights and language change, can get caught in this trap, what can we reasonably expect from people who discover these changes somewhat later?
When people who use the "wrong" word are the other, who does that serve? Who learns, who grows? How does that further the struggle for equity and justice?
If we want people to change, we need to give them the space to do so.
(Posted with thanks to my Facebook friends who made this such a rich and meaningful discussion.)